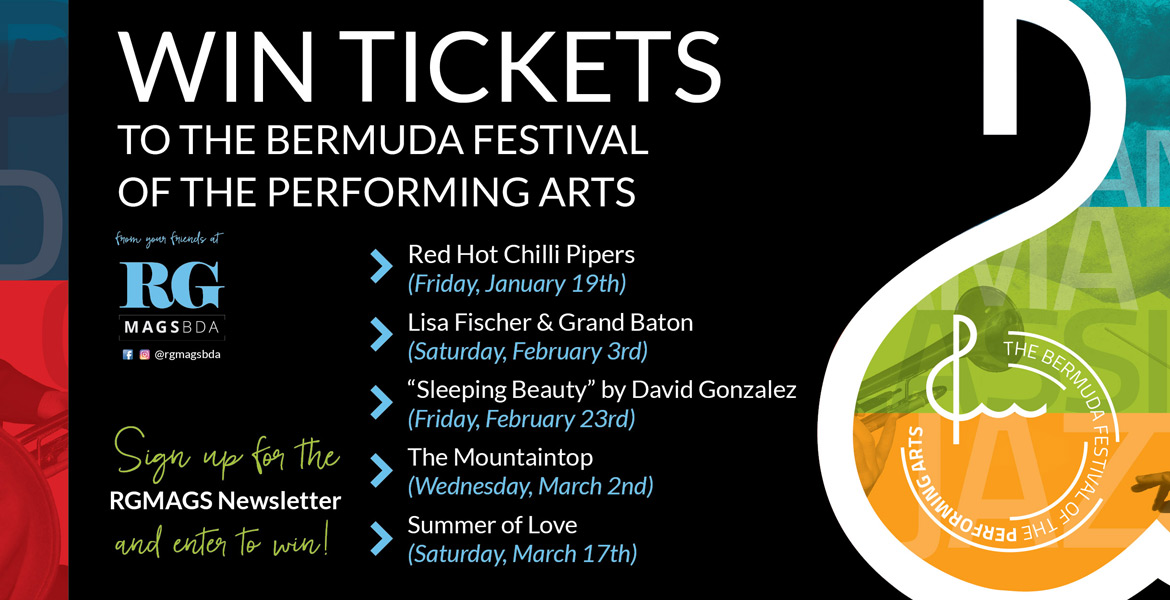 Participants will be automatically entered to win a pair of tickets to a 2018 Bermuda Festival Show when they newly register for the RG Mags Newsletter. Once a participant registers for the newsletter (only new entries following January 15, 2018), they are eligible to win two tickets any of the listed events.
Friday, January 19th: Red Hot Chili Pipers
Saturday, February 3rd: Lisa Fischer & Grand Baton
Friday, February 23rd: David Gonzalez Master Storyteller
Wednesday, March 2nd: The Mountain Top
Saturday, March 17th: Summer of Love
Winners will be announced two days prior to the date of the show.

Announced: 17/1/18 for Red Hot Chili Pipers (19/1/18)
Announced: 1/2/18 for Lisa Fischer & Grand Baton (3/2/18)
Announced: 21/2/18 for David Gonzalez Master Storyteller (23/2/18)
Announced: 28/2/18 for The Mountain Top (2/3/18)
Announced: 15/3/18 for Summer of Love (17/3/18)
Winners will be notified via the email address provided.
The same participant cannot win more than once.
No purchase necessary.
Winners must be over 18 years of age.
Families, employees, or anyone else connected with this promotion, are not eligible to win.
The winners will be selected at random from the new RG Mags Newsletter enrollees received following January 15, 2018.
Winners must claim their prize in person at The Royal Gazette.
The winners may be asked to participate in any publicity or promotion organized by The Royal Gazette, including promotional photographs and mention of their name on social media.
By entering, participants agree to these terms and conditions.